Love People. Cook Them Tasty Food.
Zesty Grilled Mexican Corn with Spicy Sea Salt Butter

Golden sweet meet Spicy ...
You've had grilled corn on the cob before, but this is one step better.
Similar to the classic Mexican street food, but with fewer ingredients, there's so much flavor here to go along with the fun and crunch of the eating experience. Our grilled corn on the cob recipe delivers a sweet, salty, crunchy zesty bite of goodness.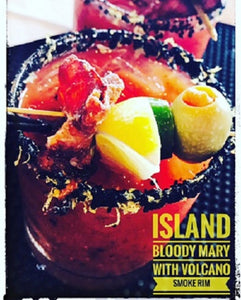 Island Bloody Mary with Volcano Smoke Salt Rim
Known as the beverage version of a salad, this Bloody Mary has taken on a new twist with Volcano Smoke Salt Rim and loaded flavors as garnishing.
Visiting Kailua-Kona on the Big Island?
Drop by Island Lava Java at their new ocean front location and ask the bartender to make you this "Island Bloody Mary" while you take in the goregous sunset and ocean breezes...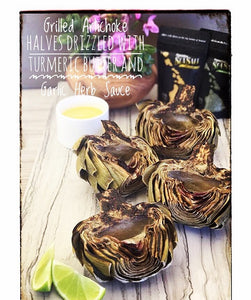 Grilled Artichoke Halves with Turmeric Butter and Garlic Herb sauce
Are you an artichoke lover?
Well then, grilled artichokes are a must-order!
These smokey, tender grilled artichokes are seasoned with garlic herb sauce and served with Turmeric butter. A perfect BBQ side dish for those warm summer evenings.
White Pineapple Balsamic Kiawe Smoked Sea Salt Vinaigrette Caprese Salad
L'Appetito Vien Mangiando
"Appetite comes with eating"
~ Italian Proverb
Italians believe food solves anything. And we couldn't agree more!
The caprese salad, or Insalata Caprese as you'll find it on the menus in Italy, originated in the 1950's in the Isle of Capri. Composed of just a few ingredients; Fresh Tomatoes, Mozzarella and Basil, this salad has gained in international popularity for its unique flavor.
As a nice and light afternoon appetizer, our Caprese Salad keeps the basics, but adds a sprinkle and a splash of Hawaiian Island flavor. With Kiawe smoke salt and a drizzle of extra virgin olive oil and white Pineapple Balsamic vinaigrette, we are confident this appetizer will be a hit with your guests.
Visiting Oahu?
Be sure to stop by Island Olive Oil Company shop at the Ward Centre in Waikiki and sample their array of fresh olive oils, Vinaigrettes, Gourmet foods, and of course our Pardise SEA SALTs.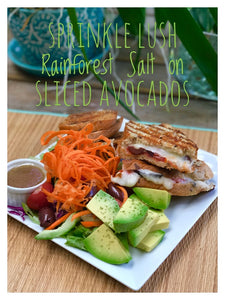 Sprinkle Lush Rainforest Salt on Sliced Avocados
Did you know that within the beautiful Hawaiian Islands, there are over 200 delicious avocado varieties?
This was not always the case. So, how did Hawaii get so many types of avocados?
Our tasty Island grown avocado fruits, (yes! they are a fruit or otherwise known as a single seeded berry!!) came by way of ship through explorers, traders, missionaries, colonists and a host of plantations workers from all around the world in a span of 200 years.
Local farmers picked up on the value of the avocado fruit trees, and many of Hawai'i's first avocado varieties were in fact cultivated by Japanese coffee farmers on Hawaii's Big Island. Naming these buttery fruits like they were family, a handful of Hawaii's avocado varieties have the famous surnames to prove it; Ohata, Yamagata, and Nishikawa.
Simple is sometimes best. We found that sprinkling our Lush Rainforest Salt on sliced avocados, takes the smooth buttery taste of avos to a whole new level!
Bavarian pretzels with our colorful Hawaiian salts